New Install Keys V-Planner
For registered users: Generate additional keys for new program installs onto a new computer.
Each registration is limited to four(4) code & key sets per year on Windows / Linux / Mac registrations, and two(2) for Android / Pocket PC / Mobile registrations. When entering the install code, please ensure it is correct, as mistakes will also reduce your remaining sets.
---
Enter email address for this registration - details of new keys will be sent to this address only.
Enter the Program install code from the new V-Planner program (PC/Mac: select menu About, then shareware registration details, Android: select menu Registration).

eg. (11-22-33-44-AA-BB-CC-DD)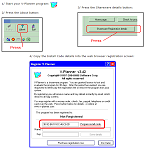 show me
---
No details found for: fred@walter.com

Remaining attempts: 0

Try again
---
If you use an email filter, ensure it will accept this email from registration@v-planner.com
To change the registered email address, visit address swap
Resend keys for lost keys and passwords of registered users.